Drama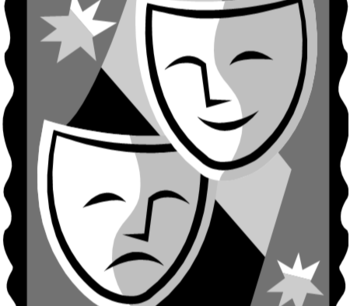 KNIGHTS DRAMA
Our drama program is a participation based course that develops student's imagination and creativity, increases students self confidence through team work and teaches students presentation skills through various dramatic activities and exercises.    Our main units of study in drama focus on speech, movement, improvisation, acting, theater studies as well as technical theater.
Our grade 7 program aims to introduce grade 7's to the basic principles of drama and most importantly allow them a safe environment in which they learn to feel comfortable on stage.  We focus more on the process rather than the finished product.   Themes covered this year include:
Games, Games, Games
Sound Effects and More...( Radio Plays)
Tragedy of the Greeks ( Theater History)
Improvisation Olympics
Scene Study ( Be a Star!)
Year End Air Band Competition
Our Grade 8 Program builds on the skills built in grade 7.  In grade 8 we try to incorporate different genres of theater so students can begin to understand the different disciplines.  We believe that our students learn best by doing so there is more of a focus on performance.  Units incorporated include:
Be Mr. Bean ( Mime)
"You Can't Stop the Beat"... Musical Theater
Mixed Up Fairy Tales ( Children's Theater Show)
Improvisation Olympics
Media Unit ( Video Cameras/ Talk Shows/ Game Shows)
Year End Air Band Competition
Our Grade 9 Program aims to prepare students for high school theater programs or other community based programs.  It is in this year we try to fine tune skills learned in the past three years as well as introduce the basic elements of directing.
Good Guys and Bad Guys ( Melodrama)
Everybody Was Kung Fu Fighting (Stage Fighting)
Mastering a Monologue  ( How to Audition)
Plan, Direct and Star in a  One Act Play
Improvisation Olympics
Year End Air Band Competition
KNIGHTS DRAMA CLUB
Our drama club gives the students an opportunity to participate in a large cast production at Festival Place in Sherwood Park. Students are able to participate by acting in the play or by working in the crew (lights sound, set construction or costuming) on the show.  All students in Clover Bar are able to participate in drama club.  We have had casts as large as 110 students.  Past Plays include High School Musical, The Jungle Book, Anne of Green Gables, Annie, Wizard of Oz and many, many more.
Most rehearsals are scheduled during the lunch hour although there are also a few rehearsals after school and on the weekends.  Auditions start at the end of September and we perform the first week of February at Festival Place.  We have 4 students' performances. There are two matinees in which we generally perform to elementary audiences as well as two evening shows.  In the past few years we've been lucky to sell out most of our performances.
It's an amazing experience for the students! 
PLACE Program
The PLACE Program at Clover Bar stands for, "Practical Learning and Community Education". Students in the program have moderate cognitive disabilities and programming focuses on academic skills that are applied in daily life and increase knowledge of the community and the world. Students also develop work skills and a work ethic, independent basic life skills, social skills and appropriate behaviour for a variety of environments.
Putting high and appropriate expectations in place for all students leads them to experience success, and continually develop skills and knowledge. Programming for adolescents develops increasing independence and application of skills that could be used at home, school, the community or at work. Learning occurs in both the community and the classroom. All students in the PLACE Program are on Individual Program Plans.
Honours Program Information
The Honours Program at Clover Bar is designed for students who do well in school and enjoy learning and academic challenges. Students require a mark of 80% or higher in ELA, mathematics, science and social studies in order to apply for the program. We have one Honours class in Grade 8 and one in Grade 9.
The program groups students together for their core subjects. Students in the Honours Program follow the Alberta Education Program of Studies. Summative assessments are based on the Alberta Education learning outcomes. Because learning outcomes are covered at a quicker pace, more time is available for a number of enrichment activities in the various core classes.
We do not add to the workload of students in the Honours Program. This allows them the opportunity to participate in the Fine Arts, Athletic and volunteer extracurricular activities, as well as interests outside of school.
Due to staffing and scheduling restrictions at this time, we are not able to offer a combined Hockey/Soccer Honours class.