Growing Great Citizens!
Please help the Clover Bar Family support neighbours in need this holiday season.  Items are needed for both the Food Bank and the Tree of Warmth.  
Day 1- Socks (Dec.3)
Day 2- Toques (Dec.4)
Day 3- Mittens/Gloves (Dec.6)
Day 4- Scarves (Dec.7)
Day 5- Clothes (Dec.10)
Day 6- Soup (Dec.11)
Day 7- Pasta (Dec.12)
Day 8- Juice Boxes (Dec.13)
Day 9- Books (Dec.14)
Day 10- Colouring Books (Dec.17)
Day 11- Stuffed Animals (Dec.18)
Day 12- Unwrapped Toys (Dec.19)
Clover Bar Jr. High is proud to present:
When:    January 23rd to the 25th
Where:   Salisbury Composite High
Time:      7:00 PM
TICKETS ON SALE DECEMBER 10th
Keeping Students Safe
The safety of our students is important to us.  Please help us to ensure their safety by respecting the NO PARKING zones in front of the school.  When dropping off your child, please pull into a parking stall labelled for visitors and refrain from blocking the entrances to the driveway.  Your co-operation is greatly appreciated.
December is the month of giving!
With Christmas right around the corner we know that many people and families have a hard time at Christmas--sometimes it can be the hardest season around.  To try and make Christmas better for as many families as possible, and to show our Clover Bar Knight's spirit, we're having a competition. Which homeroom can bring in the most items for the food bank for December health day? Please bring your food bank items from Wednesday, December 5th to Friday, December 7th and we'll tally them up when we celebrate some of our school's amazing students during the morning assembly and see which class wins! If you'd like to bring your food bank items earlier, please bring them to your home room teacher to hold until Health Day.  Let's make December a season of giving, Knights!
It Takes A Village
Being a parent is one of the toughest jobs there is.  And sometimes, we all could use some help.  Join other parents for an evening of insight sponsored by CANACCORD GENUITY.
Winter Break Closure
Clover Bar Jr. High School will close for the winter break at the end of the day on Dec. 21, 2018 and will reopen on Jan. 7, 2019. During this time, if you have any school-related questions or concerns, contact Central Services at Elk Island Public Schools.
EIPS Central Services Winter Break Hours
Closed                  December 22-January 1
Open                     January 2-4, 8:30 a.m. to 4:30 p.m.
*for location and contact information visit www.eips.ca.
From everyone at Elk Island Public Schools, we wish all of you a happy holiday season and a wonderful New Year.
What's Happening at Clover Bar Jr. High?
Check back here each month to see what is on the go at Clover Bar Jr. High.
There is always something exciting happening! 
School Registration for 2019-20
Elk Island Public Schools 2019-20 Registration Drive
All student registrations for the 2019-20 school year—including kindergarten registration, returning student registration and new student registration—will take place online commencing on Feb. 1, 2019.
Returning Students: If your child will be returning to an EIPS school next fall, this is when you will confirm that registration and select your requested school—whether your child will attend your designated school or will request a non-designated school, your family will complete this process.
New Students: Students new to EIPS for the 2019-20 school year will also complete their registration at this time.
All registration forms will be online for families to complete. Additional information, including a list of schools with open and closed boundaries, will be posted on the Division website in the new year.
Want to Learn French?
Are you looking for a spring or summer program to learn French? Do you want to discover another region of Canada and meet new people? Explore offers two intensive language-immersion programs.
A five-week program for students at least 16 years old and in Grade 11 – offered in the spring or summer
A three-week program for students ages 13-15 – offered in the summer
Participants in Explore receive a bursary (taxable income) that covers tuition fees for the programs, instructional materials, meals and accommodations, workshops, and other mandatory activities. Discover another region of Canada while learning French. The early-bird application deadline is Feb. 15, 2019.
REMINDER SCHOOL FEES ARE NOW PAST DUE
School fees were due November 1st.  Please submit your fees today if you have not done so already. The simplest, and most convenient, way to pay schools fees is by logging in to the PowerSchool Parent Portal and clicking on "Student Fees." 
Want to be in the know?
Staying connected is important to us, and we communicate with our families via School Messenger email, as well as regular updates on our website. Please subscribe to ensure you receive information from us.
Yearbooks for Sale
There are a limited number of yearbooks available for purchase for $31.  Please contact the office if you are interested.
Knights Wear Swag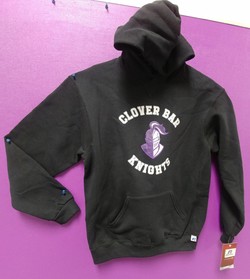 Knights wear clothing is now available for purchase using your Power School Portal under "student fees."  Please follow the link below.
School Fees
Families are invoiced for school fees at the beginning of every school year. Fees are due within 30 days of the invoice date. The simplest, and most convenient, way to pay schools fees is by logging in to the PowerSchool Parent Portal and clicking on "Student Fees." If circumstances exist where you are unable to pay your students fees, you can apply to have fees waived by submitting an Application for a Waiver of Fees.
For more information:
EIPS fees and waivers
Clover Bar Junior High fees
Student Transportation fees
Division News