See you November 19th on Day 4.
Remembrance Day Service
When:  Friday, November 9th
Time:   10:00 AM in the Gym
All members of the community are welcome to take part in this service.
REMINDER SCHOOL FEES ARE NOW PAST DUE
School fees were due November 1st.  Please submit your fees today if you have not done so already. The simplest, and most convenient, way to pay schools fees is by logging in to the PowerSchool Parent Portal and clicking on "Student Fees." 
Want to Learn French?
Are you looking for a spring or summer program to learn French? Do you want to discover another region of Canada and meet new people? Explore offers two intensive language-immersion programs.
A five-week program for students at least 16 years old and in Grade 11 – offered in the spring or summer
A three-week program for students ages 13-15 – offered in the summer
Participants in Explore receive a bursary (taxable income) that covers tuition fees for the programs, instructional materials, meals and accommodations, workshops, and other mandatory activities. Discover another region of Canada while learning French. The early-bird application deadline is Feb. 15, 2019.
Want to be in the know?
Staying connected is important to us, and we communicate with our families via School Messenger email, as well as regular updates on our website. Please subscribe to ensure you receive information from us.
What's Happening at Clover Bar Jr. High?
Check back here each month to see what is on the go at Clover Bar Jr. High.
There is always something exciting happening! 
Opioids Don't Discriminate
Opioids Don't Discriminate is being hosted by Strathcona County Family and Community Services.  This no cost event is for anyone interested in learning more about opioids, the crisis, and ways to obtain information on the topic.  This event is open to the public, and junior and senior high schools are invited to arrange field trips during the day.  This interactive event profiles local statistics while immersing participants in an interactive journey of three different characters, based on real-life experiences of those affected by opioid use. The purpose of this event is to reduce stigma and enhance empathy for those impacted by opioids.
Location: Community Centre Agora at 401 Festival Lane, Sherwood Park
Dates: Nov 5 to 9        Time: 2:30 p.m. to 7:00 p.m.
9:00 am to 2:30 pm available for group bookings by contacting 780-464-4044 or familycommunity@strathcona.ca
What Comes Next?
Band Students @ Oil Kings Game
Yearbooks for Sale
There are a limited number of yearbooks available for purchase for $31.  Please contact the office if you are interested.
Knights Wear Swag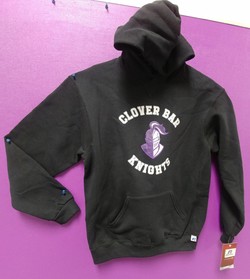 Knights wear clothing is now available for purchase using your Power School Portal under "student fees."  Please follow the link below.
School Fees
Families are invoiced for school fees at the beginning of every school year. Fees are due within 30 days of the invoice date. The simplest, and most convenient, way to pay schools fees is by logging in to the PowerSchool Parent Portal and clicking on "Student Fees." If circumstances exist where you are unable to pay your students fees, you can apply to have fees waived by submitting an Application for a Waiver of Fees.
For more information:
EIPS fees and waivers
Clover Bar Junior High fees
Student Transportation fees
Clover Bar Jr. High is proud to present:
When:    January 23rd to the 25th
Where:   Salisbury Composite High
Time:      7:00 PM
Tickets on sale in December
Division News