♣Halloween Celebrations October 31st♣
Noon- Pumpkin Carving Contest in the Gym
2:15-  Costume Parade & Competition in the Gym.  Time permitting, we will finish up with a short dance break.
All students are encouraged to take part in this fun "Knight," activity!  
Please remember that costumes utilizing masks, hoodies or weapons are not permitted.
Knights Wear Swag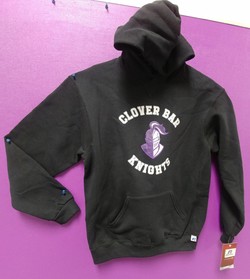 Knights wear clothing is now available for purchase using your Power School Portal under "student fees."  Please follow the link below.
Yearbooks for Sale
There are a limited number of yearbooks available for purchase for $31.  Please contact the office if you are interested.
Clover Bar Jr. High is proud to present:
When:    January 23rd to the 25th
Where:   Salisbury Composite High
Time:      7:00 PM
Tickets on sale in December
School Fees
Reminder that school fees are due before Nov.1
School Fees
Families are invoiced for school fees at the beginning of every school year. Fees are due within 30 days of the invoice date. The simplest, and most convenient, way to pay schools fees is by logging in to the PowerSchool Parent Portal and clicking on "Student Fees." If circumstances exist where you are unable to pay your students fees, you can apply to have fees waived by submitting an Application for a Waiver of Fees.
For more information:
EIPS fees and waivers
Clover Bar Junior High fees
Student Transportation fees
Staying connected is important to us, and we communicate with our families via School Messenger email, as well as regular updates on our website. Please subscribe to ensure you receive information from us.
Division News